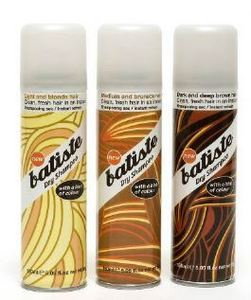 Batiste
Dry Shampoo With A Hint Of Colour
Batiste Dry Shampoo With A Hint Of Colour is a dry shampoo that contains a hint of colour that blends with your hair tone and even blends in root re-growth. It comes in 3 shades:
-LIGHT for blondes
- MEDIUM for brunettes and auburns
- DARK for dark haired beauties
This dry shampoo refreshes and revitalizes your hair between washes. It easily helps banish away oily roots and revitalize dull, lifeless hair when you have no time to mess with washing it — no water needed. The formula keeps you oil–free for hours. 
edit
Spray the shampoo lightly onto your hair, massage in thoroughly with your fingertips and then brush it out.
---
Added on 02/17/2011 at 10:44PM by
Inezza
---
Questions
There are no questions yet