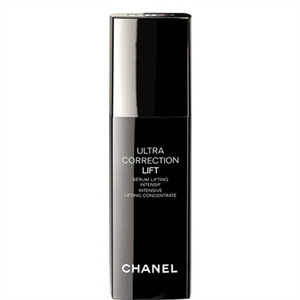 Chanel

ULTRA CORRECTION LIFT INTENSIVE LIFTING CONCENTRATE

(ULTRA CORRECTION LIFT Line)

Chanel ULTRA CORRECTION LIFT INTENSIVE LIFTING CONCENTRATE is an anti-aging concentrate which restores skin firmness at every level, re-energizes and revitalizes the cells, deeply strengthens the dermal mesh and resculpts the facial contours, leaving skin tones, dense, firm and supple, and the complexion even-toned and luminous. The formula is infused with Elemi PFA, the "cornerstone" active ingredient, which promotes the production of tensins (essential for restoring tension to fibroblasts), boosts intercellular exchanges, and stimulates the synthesis of collagen fibers, while the triple-action peptide "backs up" this action by targeting the elastin network.
edit
Apply to face and neck morning and evening, after your eye and lip creams, and before your day or night creams.
---
Added on 09/16/2011 at 12:08PM by
Inezza
---
More products by Chanel from ULTRA CORRECTION LIFT line:
---
Questions
There are no questions yet