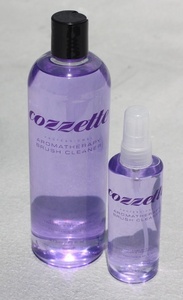 Cozzette
Aromatherapy Brush Cleanser
Cozzette Aromatherapy Brush Cleanser is a special brush cleanser that will revitalize and purify your natural and synthetic brushes. The formula is infused with cleansers, Provitamin B5, Vitamin A to moisturize and add shine to bristles and Vitamin E to condition and neutralize free radicals; and fragranced with an Roque Cozzette's signature blend of soothing and calming lavender and uplifting lemongrass.
edit
Key ingredients: - Lavender Essential Oil - Lemongrass Essential Oil - Provitamin B5 - Vitamins A & E
---
(
0
out of
5
based on
1 review
)
Review this Product
Ask question about this Product
More Cozzette Products
---
Recent Reviews
Cleaning Techniques To spot clean with brush cleaner, spray a tissue or paper towel with the product and gently swipe the bristles of the brush along the portion of the towel dampened with the solution. Once pigment/product is no longer on your brush, swipe the bristles along the clean/dry portion of the paper until all residue and traces of pigmentation are removed from the fibers. The normal drying time for a spot-cleaned brush is approximately 5 to 10 minutes.

Reviewed by

roque Cozzette

on 07/12/2011 at 03:07PM

.



Questions
There are no questions yet