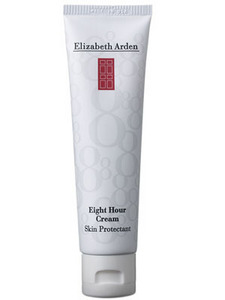 Elizabeth Arden

Eight Hour® Cream Skin Protectant

(Eight Hour® Line)

Elizabeth Arden Eight Hour® Cream Skin Protectant is created by Ms. Arden herself. This cream protects and hydrates skin for up to eight hours, smoothes, soothes and clams various irritations. It works wonders on sunburns, chapped lips and rough elbows and heels. This product is also wonderful before and after wax treatments.
edit
Eight Hour® Cream's apricot colored balm is so effective due to its combination of petrolatum, a skin-soothing beta-hydroxy and vitamin E. This remarkable protectant promotes healthy looking skin and seals in moisture. Petrolatum: A universally acknowledged intensive moisturizer that also soothes and protects the skin. Salicylic Acid: A beta hydroxy acid pioneered by Elizabeth Arden over seventy years ago. It gently exfoliates to encourage smoother skin. Vitamin E (Tocopheryl Acetate): Acts as an antioxidant to help protect the skin from free-radical damage. It is easily absorbed by the skin and has soothing properties. Active Ingredient: (Each gram contains) Petrolatum 568 Mg (Skin Protectant) Inactive Ingredients: Lanolin, Mineral Oil, Tocopherol, BHT, Salicylic Acid, Ricinus Communis (Castor) Seed Oil, Vegetable Oil, Zea Mays (Corn) Oil, Fragrance, Citral, Citronellol, Geraniol, Limonene, Linalool, Propylparaben, Iron Oxides
Apply liberally as often as necessary, anytime anywhere you need. Shape brows, revitalize shine, soothe dry hands and smooth cuticles and nails. Also soothes dry skin and comforts minor weather burns, scrapes and abrasions.
---
Added on 04/26/2012 at 10:48AM by
Tonya
---
Questions
There are no questions yet