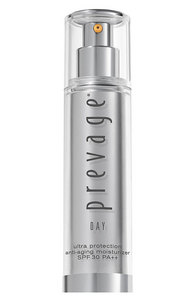 Elizabeth Arden

PREVAGE® Day Ultra Protection Anti-aging Moisturizer SPF 30 PA++

(PREVAGE® Line)

Elizabeth Arden PREVAGE® Day Ultra Protection Anti-aging Moisturizer SPF 30 PA++ restores even skin tone and smoothes fine lines while preventing sun-induced damage and first signs of aging. The product is based on a formula that uses Idebenone, the most powerful known antioxidant.
edit
Idebenone Ester The single most powerful antioxidant* with an EPF® rating of 95 out of 100. Our proprietary Idebenone Ester technology is an advanced delivery system that fuses Idebenone with a skin compatible ester to provide a time release reservoir of Idebenone within the skin. Resulting in an effective and more gentle level of performance. *For face products, environmental protection is against oxidative stress due to sun, smoke and pollution, with Idebenone compared to alpha lipoic acid, kinetin, vitamin C, vitamin E and coenzyme Q10. Thiotaine An antioxidant that works with Idebenone to help protect skin from environmental assaults. Broad spectrum sunscreens Helps protect the skin from damaging UVA and UVB rays that can cause signs of pre-mature aging of the skin. Shea Butter Natural fruit extract that helps to moisturize and soothe skin.
Massage onto cleansed face and neck daily before sun exposure. For optimized antioxidant and daily protection. Use it after PREVAGE® Face Advanced Anti-aging Serum for concentrated PREVAGE® benefits.
---
Added on 04/26/2012 at 10:38AM by
Tonya
---
Questions
There are no questions yet