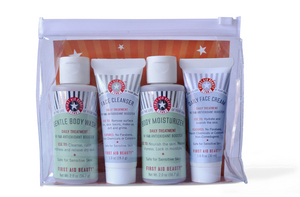 First Aid Beauty
FAB Essentials Kit
First Aid Beauty FAB Essentials Kit Kit is the ultimate travel companion for all skin types. The travel kit features airport-friendly sizes of FAB's Face Cleanser (1.0 oz), Daily Face Cream (1.0 oz), Gentle Body Wash (2.0 oz) and Body Moisturizer (2.0 oz) to provide irritant-free cleansing and hydration on the go.
FAB Face Cleanser is a mild, nourishing cleanser that is ideal for all skin types. Regular use calms redness and reduces skin reactivity, preserves the natural oils that protect the skin. It's pH-balanced to maintain the natural acidity of the skin. Daily use results in fewer flare ups and reduced skin reactivity.
FAB Daily Face Cream is a lightweight, oil-free and non-comedogenic moisturizer that is ideal for oily, combination or acne-prone skin. It hydrates and nourishes skin, improves natural skin barrier function, calms redness and irritation and reduces skin reactivity.
FAB Gentle Body Wash is a moisturizing, irritant-free cleanser that is ideal for all skin types, even the most sensitive skin. It calms redness and irritation, improves moisture retention and is free of common irritants such as parabens, propylene glycol, and sulfates.
FAB Body Moisturizer is an everyday formulation that provides deep hydration and barrier protection for all skin types, including sensitive, dry or scaly skin. It nourishes and restores all skin types, locks in moisture after bathing and improves skin barrier function.
Each product contains FAB Antioxidant Booster, comprised of Licorice Root, Feverfew and White Tea, to combat free radicals.
Essentials Kit Unique Features:
- Allergy tested
- Fragrance-free
- Dermatologist recommended
- No parabens, harsh chemicals or colorants
- Safe for sensitive skin
edit
---
Added on 12/02/2010 at 12:12PM by
Inezza
, edited on 01/17/2011 at 01:45AM by [unknown]
---
Questions
There are no questions yet