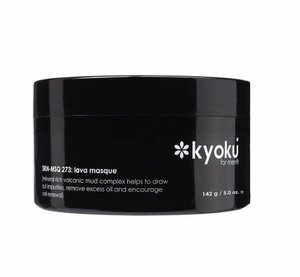 Kyoku for Men
Lava Mask
Kyoku for Men Lava Mask is infused with mineral-rich, natural volcanic mud complex and black sand which help to draw out impurities, remove excess oil and encourage cell-renewal.
Benefits:
Purifying: Naturally charged volcanic mud, volcanic black sand and volcanic ash draw out excess oils and impurities from deep within the skin's dermal layers, removing dead skin cells from the surface of the skin and resulting in an extraordinarily even complexion.
Regenerating: 73 essential sea minerals work to increase blood circulation and oxygen levels to promote cellular renewal, strengthening the epidermis from the inside out. 
Pore Reducing: With regular use, our mineral-rich volcanic mud complex visibly reduces pore size and blackheads, resulting in smooth and vibrant looking skin. 
edit
Apply to a damp neck and face, avoiding the eye area and leave on for five to ten minutes. Use one to two times a week, stir well before use, retaining excess liquid on the surface of the product to preserve its moisture.
---
Added on 05/11/2011 at 04:49PM by
Inezza
---
Questions
There are no questions yet