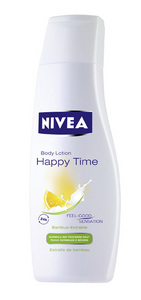 Nivea

Happy Time Body Lotion

(HAPPY TIME Line)

Nivea Happy Time Body Lotion stimulates all of the senses while leaving the skin coated in beautiful and mild scent of the orange blossom. The silky textured lotion is perfect for morning care as it provides fast absorbing moisturisation and a feel-good sensation for your skin all day long. The lotion strengthens the skin's natural protection. The promised Feel-Good Sensation invigorates all of the senses and follows you like a fragrant aura whenever you go. Skin compatibility dermatologically approved.
edit
Apply daily, gently smoothing all over your body.
---
Added on 04/07/2011 at 01:54PM by
Tonya
---
More products by Nivea from HAPPY TIME line:
---
Questions
There are no questions yet