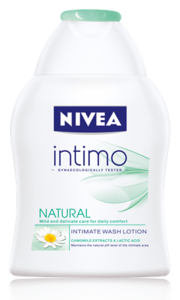 Nivea

Intimo Natural Wash Lotion

(Intimate Care Line)

Nivea Intimate Intimo Natural Wash Lotion is a lotion especially developed to protect your intimate area. It contains natural camomile extract, bisabolol and lactic acid which give your intimate area the care it needs. Lactic acid is naturally present in your intimate area and the natural camomile extract and bisabolol are known for their calming properties. Gynaecologically, dermatologically and clinically tested. Adjusted to your intimate area's pH-level of 4.6. Free of alkali soap and colorants.
edit
---
Added on 04/07/2011 at 01:29PM by
Tonya
, edited on 07/25/2013 at 09:57PM by [unknown]
(
3
out of
5
based on
1 rating
)
Review this Product
Ask question about this Product
---
More products by Nivea from Intimate Care line:
---
Questions
There are no questions yet