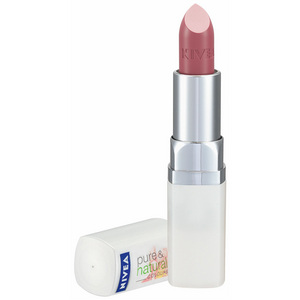 Nivea

PURE & NATURAL COLOURS LIPSTICK

(PURE & NATURAL COLOURS Line)

Available colors: #78 Chestnut Brown, #77 Cinnamon Dream, #72 Coral Rose, #76 Earthern Nude, #74 Petal Cranberry, #79 Rich Cocoa, #75 Spiced Plum, #73 Vintage Mauve

Nivea PURE & NATURAL COLOURS LIPSTICK is enriched with soft mineral pigments that guarantee natural satin colour results, certified organic pomegranate that hydrates the lips and is comfortable to wear; and almond oil that will keep your lips hydrated and smooth. 100% preservative, mineral and silicon oil free. Suitable for sensitive skin. Skin compatibility dermatologically approved. Available in a range of eight natural, long-lasting colours.
edit
---
(
5
out of
5
based on
1 rating
,
1 review
)
Review this Product
Ask question about this Product
---
More products by Nivea from PURE & NATURAL COLOURS line:
---
Recent Reviews
I want to buy this product,, where I can find it

Reviewed by

Mariam

on 04/11/2012 at 06:06AM

.



Questions
There are no questions yet