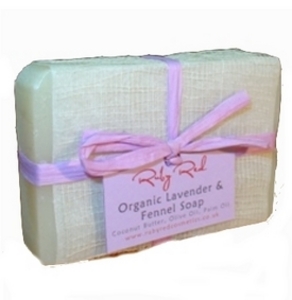 Ruby Red

Organic Lavender and Sweet Fennel Soap

(Organic Lavender Line)

Ruby Red Organic Lavender and Sweet Fennel Soap is a natural, moisturising soap that will leave you feeling calm and refreshed with the sweet, floral aroma of organic lavender, sweet fennel and palmarosa. Freshly made from the soil association organically certified olive oil, coconut butter and sustainable palm oil which produce a gentle, creamy bar of soap.
edit
Wet the soap before lathering onto damp skin and rinse with warm water and avoid contact with eyes. A Natural Soap will last between 18 to 24 months.
---
Added on 03/14/2011 at 12:06PM by
Tonya
---
More products by Ruby Red from Organic Lavender line:
---
Questions
There are no questions yet