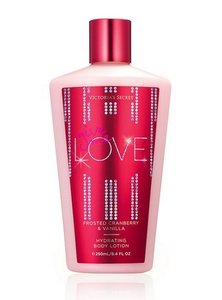 Victoria's Secret

Give Me Love Hydrating Body Lotion

(Give Me Love / Holiday 2011 Line)

Victoria's Secret Give Me Love Hydrating Body Lotion is flavored with frosted cranberry and vanilla. Smooth and silky moisture-replenishing formula enriched with vitamins E and C Available in a limited edition as a part of Holiday 2011 collection.
edit
---
Added on 10/26/2011 at 12:17PM by
Marina
(
0
out of
5
based on
1 review
)
Review this Product
Ask question about this Product
---
Recent Reviews
I love this lotion SOO much, I'm so sad I had only got one/:

Reviewed by

Jessica Kemp

on 10/03/2012 at 02:04AM

.



Questions
There are no questions yet