Crabtree & Evelyn - La Source Hydra Marine Nourishing Oil
Published: 2017-08-07 by
Marlen Elliot Harrison
in
Skin Care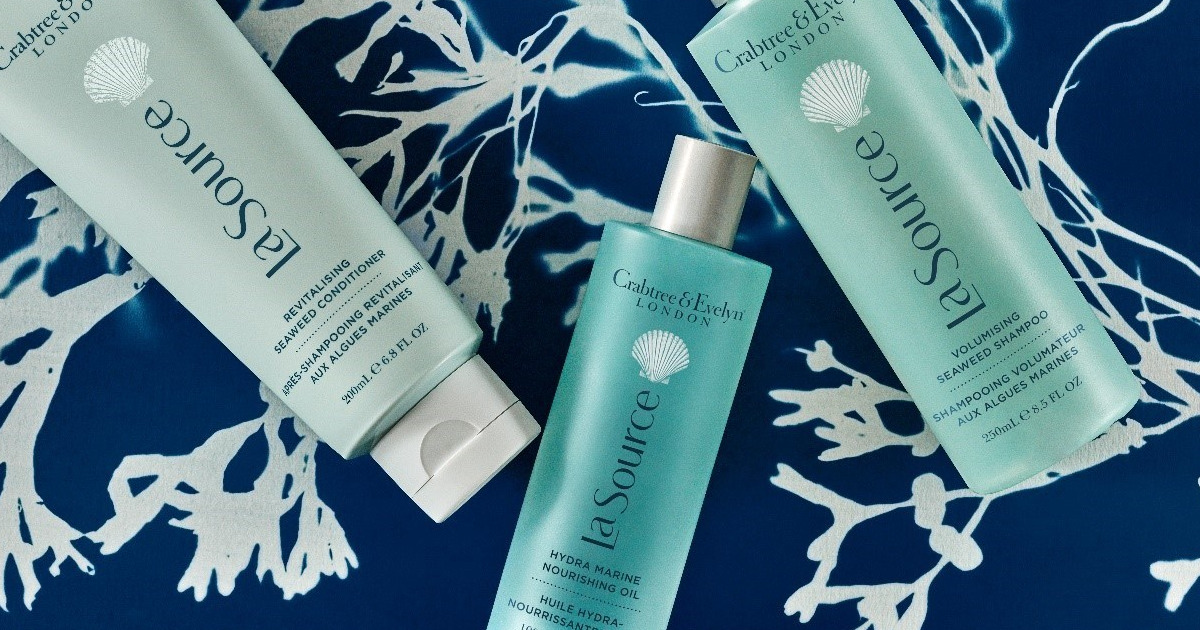 SUMMARY: From the famed La Source line of products infused with rich marine extracts, mineral salts, seaweeds and the scent of ocean breezes from tranquil far-away shores, Hydra Marine Nourishing Oil is a rich moisturizing treatment for face, body, hands and hair.
ABOUT THE COMPANY: Founded over 40 years ago by Cyrus Harvey, Crabtree & Evelyn has evolved since 1972 from a small, family-run business specialising in fine soaps from around the world, to an international company with over 500 stores worldwide.
Today the brand is renowned and respected for its original fragrances, fine foods and gorgeous gifts, all beautifully packaged to transform the ordinary rituals of daily life into extraordinary pleasurable experiences.
Long before the natural and wellness movement became popular, Crabtree & Evelyn was wholeheartedly embracing the riches of the natural world, introducing product ranges made with fruit, flower and plant essences.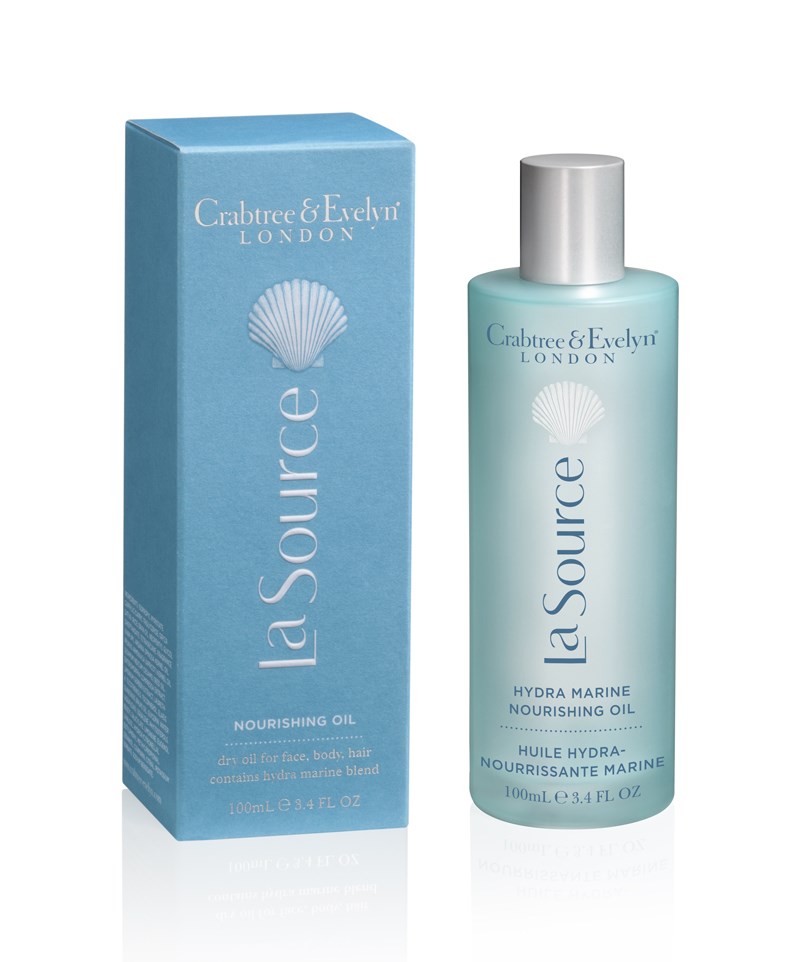 BEAUTY ALMANAC TESTED
USE: "La Source fragranced dry oil is a versatile, lightweight formulation created to nourish your hair, face, and body. Spray on hair and leave in for a deep conditioning treatment, or work into ends to soften and shine. After a bath, spritz onto dampened skin and massage. Spritz onto fingers, massage over face and tap gently around delicate eye area." Crabtree-Evelyn.com
After a day by the pool in the tropical Florida sun, my skin was a bit red and dry from chlorine and sun. I applied several sprays from the tall glass bottle sent to me by Crabtree Evelyn's PR people (I love that this is a spray rather than a splash) over face and body...and beard. My beard tends to be sensitive to being in the pool, stripped of its natural oils it craves moisture. I was surprised to find this such a great beard oil!
AROMA & TEXTURE: The aroma of La Source Nourishing Oil is the first thing I noticed - somewhere between the classic New West Skinscent for Her from Aramis and Estee Lauder's Bronze Goddess products, the scent is fresh, aquatic and slightly floral. Moreover, the aroma subtly lingers on the skin (and in hair...at least so I'm told by a friend who tested this with me...did I mention I'm bald?).
The texture is a quick-drying blend of numerous oils, never greasy, thick or sticky; I didn't feel like I had just slathered oil on my skin. But the aroma was strong enough that on my beard it was very prevalent.
INGREDIENTS: Includes Moroccan argan oil, sesame seed oil, apricot kernel oil, green seaweed extract, blue sea lavender.
ABOUT THE PACKAGING: A simple, cylindrical glass bottle with blue text and small silver cap holds the oil. The bottle is housed in the classic blue and white La Source paper box.
PROS & CONS: Formulated without mineral oil, parabens, phthalates or propylene glycol, La Source Hydra Marine Nourishing Oil is dermatologist tested. One of the main ingredients, blue sea lavender, is sustainably harvested. As I noted above, the fact that this is a fine spray makes application much easier and more measured.
The price is slightly higher than many supermarket products but significantly lower than many a designer/department store brand.
Reviews are largely positive across the web. But there have been mixed comments about the best uses of the oil. For example
"My face is extremely sensitive and while I didn't have any breakouts or reactions (yay!) I do have moisturising oil products that work better on my face than this does. I found it took a little while for the oil to soak in and didn't really see any visible benefits using it on my face. It was pleasant enough, but I'll probably stick with rosehip oil for my face.
As for my hair: I have extremely thick, coarse hair with very dry ends that usually laps up any oil it can get. Normally I use Argan oil in my hair, so I was pleased to see it on the list of ingredients for this product. The spray nozzle was handy to use, but I found that instead of being a fairly dry oil that would absorb quickly, this just made my hair greasy. It smelled incredible, but other than that, not very useful.
However, my bearded partner did try it out on his beard and loved it. He has struggled with dry skin and an itchy beard and says that this oil helped a lot. It was nourishing to his skin and made that beardy mess look loved for once. So while I am not a fan of this oil on my hair and face, it clearly does work for some people. He liked the smell almost as much as I did and we both like that it is a scent that is very unisex." Beautyheaven.com.au
WHERE CAN I BUY IT? $36 USD for 100ml spray at Crabtree-Evelyn.com
THE BOTTOM LINE: An all-in-one, great smelling spray oil blend that can be easily unisex and is fairly priced as a designer brand product.
Products mentioned in article
Crabtree & Evelyn La Source Hydra Marine Nourishing Oil
RATE
Advertisement
YOU MAY ALSO BE INTERESTED TO READ