Dolce & Gabbana Perfect Mono Eyeshadow Intense Cream Eye Colour
Published: 2014-07-18 by
Marina Milojević
in
Makeup
Dolce & Gabbana is expanding its eyeshadow portfolio to include what is announced as the brand's first cream eye shadow – the Perfect Mono Eyeshadow Intense Cream Eye Colour.
Dolce & Gabbana Perfect Mono Eyeshadow is long-lasting creamy eye colour designed to glide on easily and dry into an intense matte or pearly finish. The product is recommended for women pursuing long-lasting eye color in a rich creamy formula, and it arrives in 14 shades with velvety matte or pearl finishes. The eyeshadow promises up to 12 hours of perfect, smudge-free hold, while its soft formula allows for an effortless application with fingers, or with an eyeshadow brush. If you want to create more dramatic look, simply wet the finger or use a brush dipped in water. To create a dazzling, multidimensional effect, add a lighter tone of any Smooth Eye Colour. For some extra drama, apply a pearl shade along with a matte one.
The brand has launched a promotional campaign, featuring
Scarlett Johansson
as a modern Marilyn Monroe. In the words of the famous designed duo, all facets of the Dolce&Gabbana women are embodied by Scarlett Johansson, in the depth of her eyes and the smokiness of her expression:
"When we were looking for someone whose eyes embody the innermost essence of the Dolce & Gabbana woman, we could only think of one person: Scarlett. Her eyes can speak even when she does not, evoking intense emotions just by catching your glance. She has the look of a true star."
Dolce & Gabbana Perfect Mono Eyeshadow Intense Cream Eye Colour 
Matte Shades
Elegance 80, Nude 30, Sage 70
Cocoa 60, Desert 40, Coffee 120
Indaco 110, Lava 140
Dolce & Gabbana Perfect Mono Eyeshadow Intense Cream Eye Colour 
Pearly Shades
Innocence 10, Goldust 20, Amore 90
Dahlia 100, Bronze 50, Stromboli 130
Dolce & Gabbana's Perfect Mono Intense Cream Eye Colours
are launching on August 19, at Harrods. The product is priced at £25, per individual shade.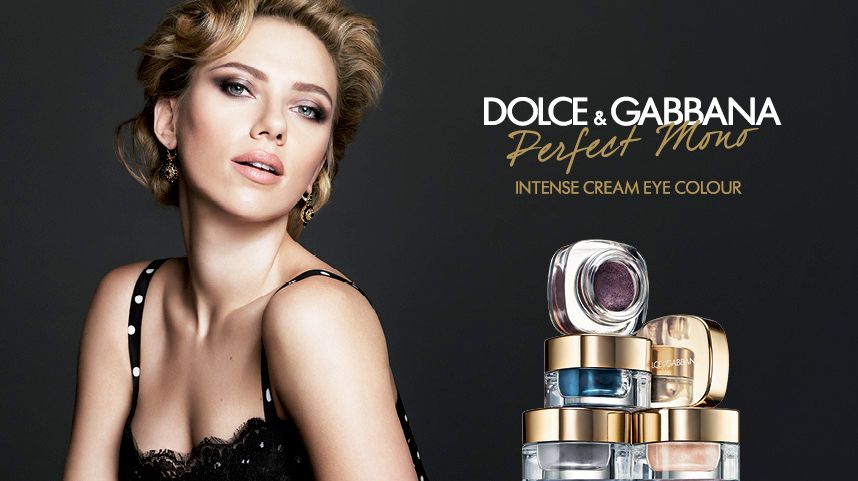 Products mentioned in article
Dolce & Gabbana Perfect Mono Eyeshadow
RATE
Advertisement
YOU MAY ALSO BE INTERESTED TO READ