Holiday 2011 Makeup Sets from Make Up For Ever
Published: 2011-10-13 by
Ines Markovic
in
Makeup
The fabolous Make Up For Ever brand has prepared four amazing makeup sets for Holiday 2011. Treat yourself with one of the following sets.
Make Up For Ever Wild & Chic Aqua Cream Collection is a gorgeous holiday set which includes 10 x 0.21 oz of Aqua Cream in the following shades:
4 Snow (white pearl shimmer)
13 Warm Beige (champagne shimmer)
16 Pink Beige (pinky beige shimmer)
15 Taupe (taupe brown shimmer)
12 Golden Copper (soft copper shimmer)
11 Gold (yellow gold shimmer)
17 Plum (burgundy plum shimmer)
14 Satin Brown (warm brown shimmer)
2 Steel (silver gray shimmer)
1 Anthracite (silvery charcoal shimmer)
The set also includes Brush #5N, all packaged in a faux snakeskin clutch.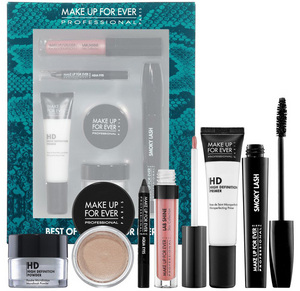 Make Up For Ever Wild & Chic Best of MAKE UP FOR EVER Kit is a wonderful holiday set which includes best of Make Up For Ever products:
0.17 oz HD Microfinish Powder
0.21 oz Aqua Cream in 13 Warm Beige (champagne shimmer)
0.04 oz Travel Aqua Eyes in Mat Black 0L (black)
0.09 oz Lab Shine in Star Collection – S4 (pearly pink beige)
0.5 oz HD Microperfecting Primer
0.23 oz Smoky Lash Extra Black Mascara
Make Up For Ever Wild & Chic Aqua Eyes Collection
is an amazing holiday eye makeup set which includes the following products:
Full Size Aqua Eyes in Mat Black 0L (black)
5 x Travel-size Aqua Eyes in Dark Grey 21L (dark metallic grey), Iridescent Navy Blue 3L (navy blue sheen), Blue With Green Highlights 12L (metallic teal blue), Pearly Brown 2L (golden brown sheen), Purple 11L (metallic purple)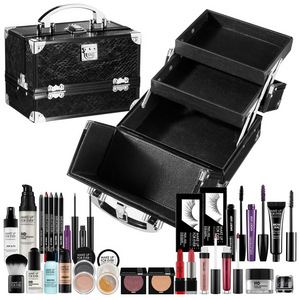 Make Up For Ever Wild & Chic Collector Case
is a fabolous makeup set which includes:
0.84 oz Travel Mist & Fix
1.01 oz HD Microperfecting Primer
0.04 oz Lip Line Perfector
2 x 0.04 oz Aqua Lip in Red 8C (true red), Light Rosewood 14C (muted dusty rose)
2 x 0.04 oz Aqua Eyes in Blue With Green Highlights 12L (metallic teal blue), Mat Black 0L (black)
2 x 0.058 oz Aqua Liner in 8 Iridescent Electric Purple (bright purple sheen), 13 Mat Black (matte black)
2 x Faux Lash 156 Genevieve (natural black with dense outer corners), 113 Betsy (extreme criss-cross flairs with glitter strip)
2 x 0.23 oz Smoky Lash in Black, 6 (plum)
0.20 oz Brow Seal
HD Kabuki Brush
0.40 oz HD Elixir
0.84 oz Travel Sens'Eyes
0.55 oz Uplight in 23 (pearly golden flesh)
2 x 0.21 oz Aqua Cream in 1 Anthracite (silvery charcoal shimmer), 13 Warm Beige (champagne shimmer)
0.09 oz Metal Powder in Honey Gold 3 (tannish gold shimmer)
0.09 oz Star Powder White/Orange 940 (iridescent golden pearl)
2 x 0.09 oz Diamond Shadow in Diamond Burgundy 311 (burnish mauve with copper shimmer), Diamond Beige 306 (peachy tan with gold shimmer)
2 x 0.12 oz Rouge Artist in 43 Moulin Rouge (satin vibrant red), 34 (satin light raspberry)
2 x 0.09 oz Lab Shine Diamond Collection – D16 (shimmering beige), Metal Collection – M10 (chrome morello cherry)
0.35 oz HD Microfinish Powder
Double Pencil Sharpener
Products mentioned in article
Make Up For Ever Wild & Chic Aqua Cream Collection
RATE
Make Up For Ever Wild & Chic Best of MAKE UP FOR EVER Kit
RATE
Make Up For Ever Wild & Chic Aqua Eyes Collection
RATE
Make Up For Ever Wild & Chic Collector Case
RATE
Advertisement
YOU MAY ALSO BE INTERESTED TO READ