La Roche-Posay Anthelios SX Daily: A Moisturizing Cream with SPF 15 Sunscreen
Published: 2017-08-30 by
Marlen Elliot Harrison
in
Skin Care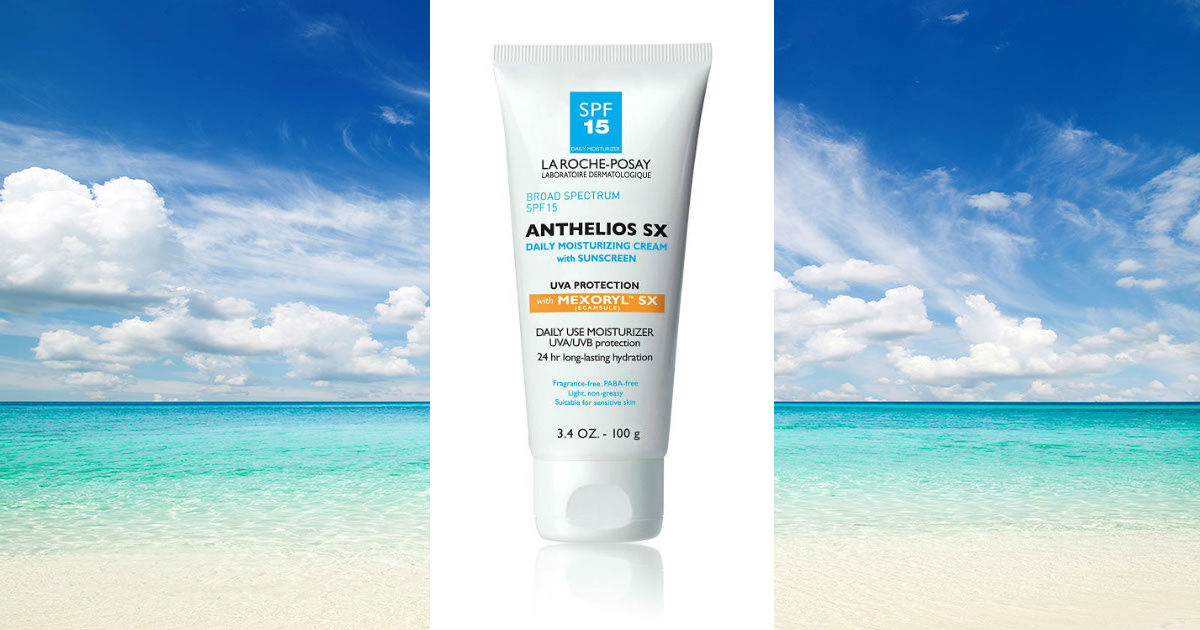 BEAUTY ALMANAC TESTED
SUMMARY: La Roche-Posay Anthelios SX is a non-greasy, lightweight daily moisturizer with Mexoryl SX (ecampsule) to help protect skin against UV rays (SPF 15).
ABOUT THE BRAND: La Roche-Posay is the brand recommended by 25,000 dermatologists worldwide offering adjunctive therapy daily skincare products formulated with highly concentrated ingredients targeting every skin's needs.
"Our naturally soothing and antioxidant Thermal Spring Water is at the origin of our brand. Discovered centuries ago in the town of La Roche-Posay, France, it has been recognized by the scientific community for its skin care properties thanks to its high content in Selenium, a rare and powerful natural antioxidant. Since 1905, this exclusive water has been used at the La Roche-Posay Thermal Center, Europe's leading Center of Thermal Dermatology, with over 7,500 patients visiting each year to experience the properties of the water. And since 1975, the La Roche-Posay Thermal Spring Water is used as a key ingredient in our skin care formulas." La Roche-Posay.us
USE: "La Roche-Posay Anthelios SX Daily Moisturizer contains Mexoryl™ SX, a unique organic UV filter that is highly protective against short UVA waves, and provides comprehensive UVA/UVB protection. Anthelios SX features the first new sun filter in a sunscreen approved by the FDA in 18 years. With SPF 15 for daily protection. Light, oil-free texture. Non-acnegenic. Non-comedogenic. 24 hour hydration. Fragrance-free. PABA-free. Dermatologist and allergy tested. Directions: Apply evenly before sun exposure. Reapply as needed or after towel drying, swimming, or perspiring. Children under 6 months of age: ask a doctor." La Roche-Posay.us

NUMBER OF TIMES TESTED FOR THIS REVIEW: 10x over the last 6 months; I purchased the product from my dermatologist.
AROMA & TEXTURE: Antihelios SX is a fragrance-free white cream moisturizer that absorbs easily into skin without leaving a greasy residue. My skin feels hydrated and soft.
INGREDIENTS: Carbomer 940 • Carbomer Copolymer Type B • Cyclomethicone • Cimethicone • Edetate Disodium • Glycerin • Hydroxypropyl Methylcellulose • Isopropyl Palmitate • Methylparaben • Phenoxyethanol • Propylene Glycol • Propylparaben • Purified Water • Stearic Acid • Stearoyl Macrogolglycerides • Stearyl Alcohol And Trolamine.
ABOUT THE PACKAGING: Simple plastic squeeze tube with flip cap for easy application.
WHERE CAN I BUY IT? Available at La Roche-Posay.us, Amazon.com, Ulta.com and other websites, ~$34 USD for 3.4ozs.
PROS & CONS: The biggest pros for me were that the product was recommended by my dermatologist for use during an allergic skin reaction to a prescribed medication. Living in a hot, sunny environment, I needed something with SPF that wouldn't irritate my skin further. The selenium-rich, fragrance-free formula was exactly what I needed. Additionally, the company offers 10% off a first purchase on its website, does not test on animals, and actively promotes skin cancer education and prevention.
I was surprised to see the inclusion of Propylparaben in the ingredients list as I actively seek out products that exclude parabens. The price is somewhat higher than typical supermarket combination moisturizer/sunscreens but La Roche Posay is all about its inclusion of natural spring water.
Reviews are strongly positive across the web with only a few comments suggesting that the product feels a bit heavy on the skin and promotes shine. I didn't experience either of these issues.
THE BOTTOM LINE: An excellent, dermatologist-recommended combo moisturizer/sunscreen that is safe for the face, not tested on animals, and widely available and praised.
Products mentioned in article
La Roche-Posay Anthelios SX Daily Moisturizer
RATE
Advertisement
YOU MAY ALSO BE INTERESTED TO READ