Nivea Daily Essentials Gentle Exfoliating Scrub
Published: 2017-08-23 by
Marlen Elliot Harrison
in
Skin Care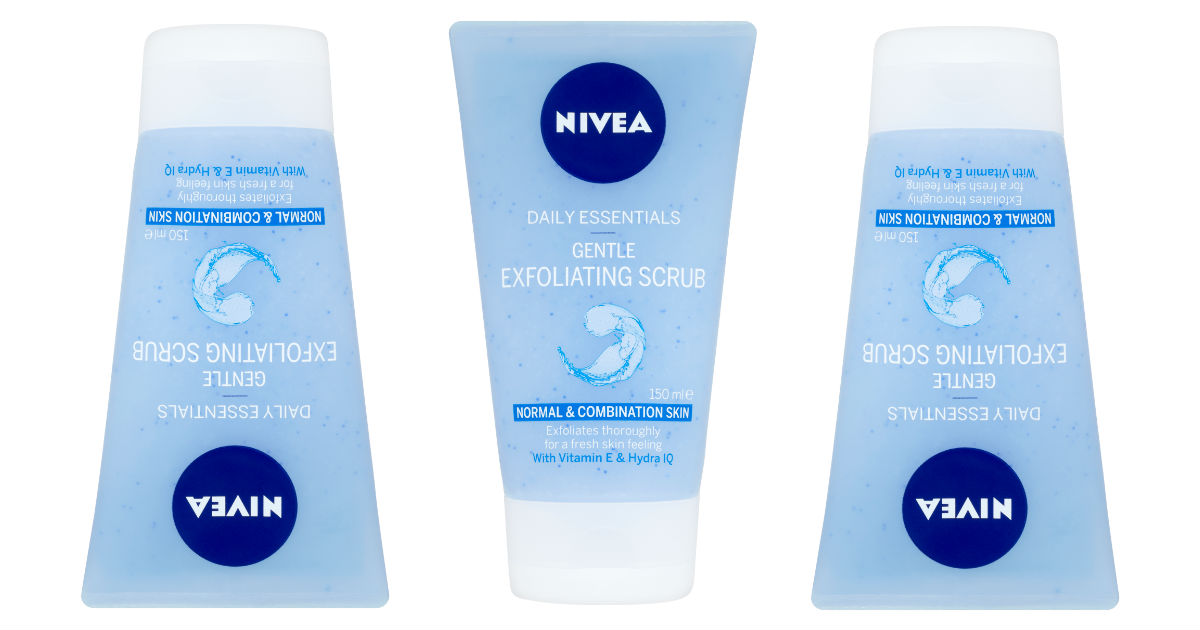 BEAUTY ALMANAC TESTED
SUMMARY: Part of Nivea's Daily Essentials line of products with their patented Hydra IQ system to enhance skin's natural moisture, the Gentle Exfoliating Face Scrub is impressive in its non-drying, Vitamin E and panthenol-enriched formula.
ABOUT THE BRAND: Nivea is a global skin- and body-care brand, owned by the German company Beiersdorf. With more than 125 years experience in skin care and one of the world's most modern research centers, Beiersdorf stands for innovative and high-quality cosmetic products. Nivea is one of the world's most trusted skincare brands thanks to its famous white skin cream which was first developed in 1911.
USE: "Nivea's Daily Essentials Gentle Exfoliating Scrub will exfoliate thoroughly yet gently for a smooth and even complexion. Enriched with Vitamin E & Hydra IQ, our Refreshing Facial Wash Gel, it exfoliates thoroughly while removing dead skin cells; smooths the skin's surface for an even complexion; and enhances your skin's natural moisturisation. For best results, use 2-3 times a week, by applying to wet face, avoiding the eye and lip area and rinsing off with lukewarm water." Nivea.com

NUMBER OF USES FOR THIS REVIEW: 5+ daily uses from a tube I purchased myself.
AROMA & TEXTURE: The gently foaming scrub is a soft, creamy gel with micro-beads for exfoliation. I really like the texture of this product and the exfoliating beads are quite gentle. This is quite different from a salt or apricot kernel scrub. The product is perfumed with a familiar floral cosmetic scent and the aroma is quite strong. Personally, I'd prefer if it were unscented.
INGREDIENTS: Aqua, Microcrystalline Cellulose, Glycerin, Sodium Acrylates/C10-30 Alkyl Acrylate Crosspolymer, Glyceryl Glucoside, Tocopheryl Acetate, Nelumbium Speciosum Flower Extract, Panthenol, Propylene Glycol, Lauryl Glucoside, Sodium Laureth Sulfate, Lactose, Cellulose, Hydroxypropyl Methylcellulose, Phenoxyethanol, Methylparaben, BHT, Parfum, CI 77007

ABOUT THE PACKAGING: A simple, transparent plastic squeeze tube with flip top allows easy application of product.
WHERE CAN I BUY IT? Online, 150ml is ~$6-8 USD.
PROS & CONS: I was happy to learn that Beiersdorf and Nivea do not perform animal testing:
"The manufacturers of NIVEA products, Beiersdorf Germany, does not test on animals. Animal testing has been completely banned for all cosmetic products in the EU since 2004, and for all the ingredients of these products since 2013. Beiersdorf, the organisation behind the NIVEA brand, complies with this law and has long done without animal testing whenever it was possible." Nivea.com
The brand also reports its commitment to social action and sustainability: "NIVEA's commitment to families is part of Beiersdorf's company-wide social target for 2020: reaching one million families and improving their lives. To find out more, visit http://www.beiersdorf.com/Sustainability/Our_Commitment/Reporting.html"
I was disappointed to see the inclusion of controversial ingredients such as Propylene Glycol, Methylparaben, Perfume, and Sodium Laureth Sulfate.
The price of the product is quite reasonable in comparison with other supermarket products.
But the biggest pro of this product is that it doesn't dry my skin the way so many other facial washes/scrubs do; I actually don't feel the need to apply a moisturizer after use of Nivea's Daily Essentials Gentle Exfoliating Scrub (of course, I still do). This is pretty impressive in terms of how moisturized my skin feels. I can't think of the last facial product I used with this kind of result.
Online reviews have been mixed with some wishing that more of the exfoliating beads were present in the formula while others were concerned about break outs and drying. For example, one Australian reviewer from BeautyHeaven.com.au wrote:
"I don't mind this as an exfoliator. There are not that many exfoliating beads in the product and I think that if there were more it would be a more effective exfoliator. It does leave my skin feeling softer after I use it and it excoriates quite nicely. I do find that it leaves a slimy feeling film on my face that I then have to wash off which I don't appreciate. It isn't unstable for someone with dry skin as it leaves my skin feeling tight and dry after I use it, showing that it strips some of the moisture from my skin. This means that I wouldn't use it more than twice a week."
I have been using it daily and haven't had any issues. I also don't experience the tightness described above.
THE BOTTOM LINE: An affordable moisturizing exfoliating scrub that leaves skin soft and supple but with the inclusion of some ingredients that some might want to avoid.
Products mentioned in article
Nivea Daily Essentials Gentle Exfoliating Scrub
RATE
Advertisement
YOU MAY ALSO BE INTERESTED TO READ