SNEAK PEEK: Laura Mercier Lingerie Collection for Spring 2012
Published: 2011-11-17 by
Ines Markovic
in
Makeup
Today we are bringing your a sneak peek of the Laura Mercier's Spring 2012 collection.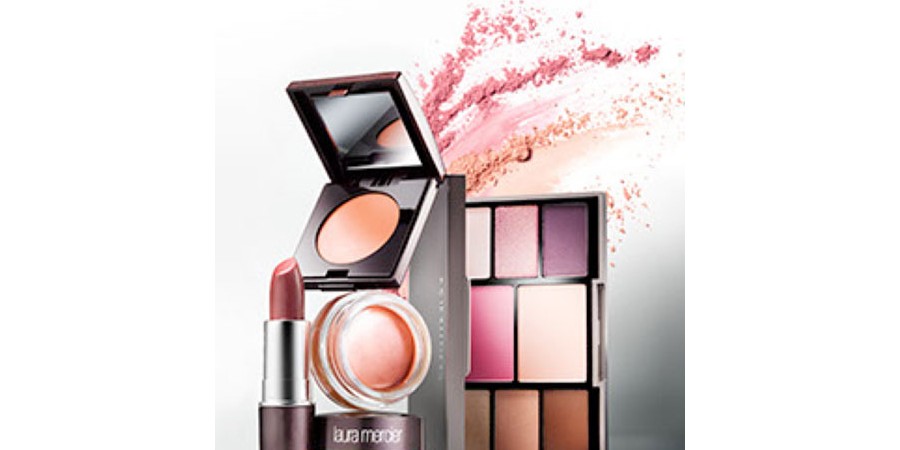 Inspired by Laura's background of a fine painter, the Lingerie collection focuses on the mood and attitude of women through different art periods. This is a modern interpretation of the Victorian Age with highlights on soft romantic colours and fabrics of that era. The center piece of the collection is a palette of colours inspired by Budoir vintage lingerie: lace, linen, silk and petticoats.
The look is ultra-feminine: lips and cheeks glow in warm corals and modern peaches while eyes allure in neutral browns and taupe greys. The collection launches in January 2012.
Discover the Lingerie collection:
Laura Mercier Lingerie Eye & Cheek Palette is a limited-edition palette which contains 6 eye shadows in Buff Pearl (Luster), Tawny Apricot (Sateen), Rich Cocoa (Matte), Pale Pink (Matte), African Violet (Luster) & Black Plum (Matte); and 2 cheek colors in Rose Desire & Fresh Peach.
Laura Mercier Eye Basics is a water resistant eyeshadow primer which creates the perfect canvas for eyeshadow application by camouflaging eye imperfections and enhancing the durability of eye makeup. The formula is infused with soothing botanicals, Vitamins A, C and E which provide anti-oxidant protection and natural clay which prevents creasing. The sheer, creamy texture blends easily and smoothly, leaving behind a long-lasting semi-matte finish. You can use it both as a primer or alone to add a hint of color to your eyes. Comes in repromote shades:
Laura Mercier Tightline Cake Eye Liner is an easy-to-use, cake eye liner that provides long-lasting colour that doesn't fade throughout the day for perfectly defined eyes. The formula is smudge and transfer-resistant and glides on the lash line smoothly. Dermatologist and ophthalmologist tested. Hypoallergenic and safe for contact lens wearers. Comes in repromote shades:
Mahogany Brown
Charcoal Grey
Laura Mercier Long Lash Mascara is a long-wearing, water-resistant, smudge-proof mascara which extends and precisely separates the thinnest, shortest, hard-to-reach lashes. The perfectly designed brush and an innovative strech formula work together to separate, curl and lengthen each lash. The formula contains dark pigments to enhance lash colour. It's clump-free, fiber-free, paraben-free, ophthalmologist tested and safe for contact lens wearers. Available in Black.
Laura Mercier Crème Cheek Colour is a long-lasting, silky powder blush formulated to provide translucent, buildable coverage and a soft, velvety finish. Comes in:
Oleander - repromote shade
Innocent Peach - new limited-edition shade
Laura Mercier Lip Shine is a lightweight lip gloss which adds a touch of delicate color to your lips, leaving a pearlescent gloss finish. The formula is infused with Shea Butter and Vitamin E which moisturize your lips without being greasy or heavy. Comes in 2 new limited edition shades:
Naked Apricot
Tempting Coral
Laura Mercier Gel Lip Colour is an innovative gel-based lip color which glides on smoothly and evenly delivering a sheer wash of colour and super smooth lips. The hydrating formula is infused with peach, apricot and almonds oil. Dermatologist and allergy tested. Preservative-free. Comes in:
Clementine
Poppy
Dollface
Rosette
Orchid
Laura Mercier Eye Colour Brush is an eyeshadow brush with flat bristles and tapered, oval tip designed especially for application of Laura Mercier "cashmere" eye colour to the eyelid and brow bone. Made of 100% natural hair. Size: 6 1/2 "/16.51cm.
Laura Mercier Cheek Colour Brush is a blush brush with a medium sculpted brush head designed especially to perfectly shape your cheek bone. Made of squirrel hair to provide softness in application and goat hair to offer durability. Use with Laura Mercier Second Skin Cheek Colour. Size: 8 1/4"/20.96cm.
Laura Mercier Nail Lacquer is a long-lasting, fast-drying nail polish which delivers chip-resistant color and intense shine to your nails. The special brush has a flat design that allows for smoother, more even coverage and easier application. The formula does not contain formaldehyde, toluene, or dibutyl phthalate (DBP). Comes in:
Sizzle
Cabana
Oh La La
Flamingo
Luscious
Products mentioned in article
Laura Mercier Lingerie Eye & Cheek Palette
RATE
Laura Mercier Lip Shine
RATE
Laura Mercier Gel Lip Colour
RATE
Laura Mercier Crème Cheek Colour
RATE
Laura Mercier Tightline Cake Eye Liner
RATE
Laura Mercier Long Lash Mascara
RATE
Laura Mercier Eye Basics
RATE
Laura Mercier Eye Colour Brush
RATE
Laura Mercier Cheek Colour Brush
RATE
Laura Mercier Nail Lacquer
RATE
Advertisement
YOU MAY ALSO BE INTERESTED TO READ