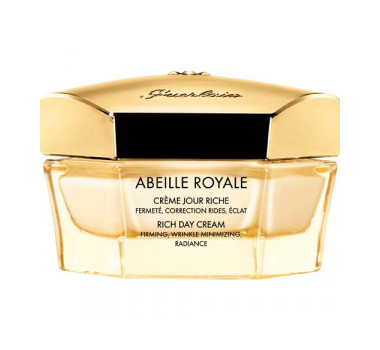 Abeille Royale Rich Day Cream
Abeille Royale Rich Day Cream has a balm-like texture enriched with beeswax, providing instant comfort and nourishment. The creme minimizes wrinkles, provides firmness and boosts radiance. It smells of a sunshine nectar created by the in-house perfumer Thierry Wasser, featuring honey, fresh and airy scents.
2016
Abeille Royale Rich Day Cream should be applied in the morning after the Face Treatment Oil and/or the Daily Repair Serum.

Apply to the middle of your face and work outwards:
1. Firm: make gently dabbing movements with your fingertips along the contour of your face. Repeat starting 2cm higher and moving towards the hairline.
2. Smooth: lightly tap your fingertips over your face, paying particular attention to the areas most prone to wrinkles.
---
---
Advertisement
---
---
Advertisement
Right now 12 products on sale!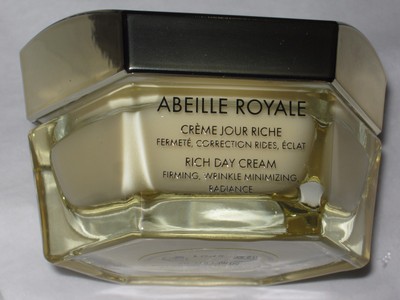 77 USD
GUERLAIN Abeille Royale RICH DAY Cream jour 50 ml / 1.6 OZ NEW
77 USA
New

64 USD
Guerlain Abeille Royale RICH DAY CREAM 1.6 oz New SEALED
64 Secaucus,NJ,USA
New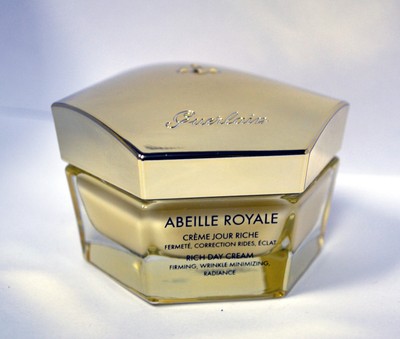 63 USD
GUERLAIN Abeille Royale RICH DAY CREAM FOR THE FACE 1.6 FL.OZ Read description
63 Staten Island,NY,USA
New
173 AUD
NEW Guerlain Abeille Royale Rich Day Cream - Firming, Wrinkle Minimizing, 50ml
173 Australia
New

120 USD
Guerlain Abeille Royale Rich Day Cream 50ml Skincare Moisturizer Smooth Firming
120 Hong Kong
New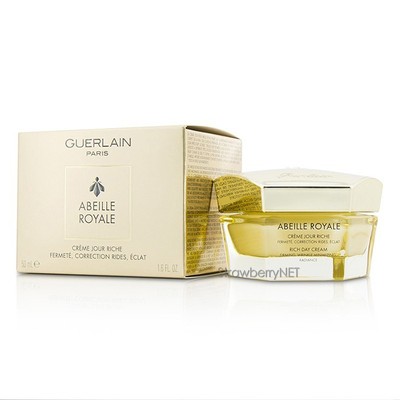 112 USD
Guerlain Abeille Royale Rich Day Cream - Firming & Wrinkle Minimizing & Radiance
112 Hong Kong
New
133 USD
NEW Guerlain Abeille Royale Rich Day Cream - Firming, Wrinkle Minimizing, 1.6oz
133 USA
New

60 USD
GUERLAIN Abeille Royale RICH DAY CREAM FOR THE FACE 1.6 FL.OZ NWOB
60 Boca Raton,FL,USA
New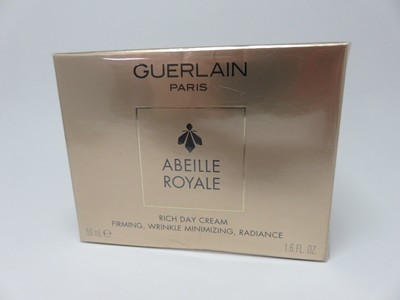 63 USD
Guerlain Abeille Royale RICH DAY CREAM 1.6 oz New In Retail Box SEALED
63 Secaucus,NJ,USA
New

40 USD
Guerlain Abeille Royale RICH DAY CREAM 1.6 oz NIB
40 Secaucus,NJ,USA
New

40 USD
Guerlain Abeille Royale RICH DAY CREAM 1.6 oz New Boxed
40 Secaucus,NJ,USA
New

40 USD
Guerlain Abeille Royale RICH DAY CREAM 1.6 oz Plastic Damaged
40 Secaucus,NJ,USA
New