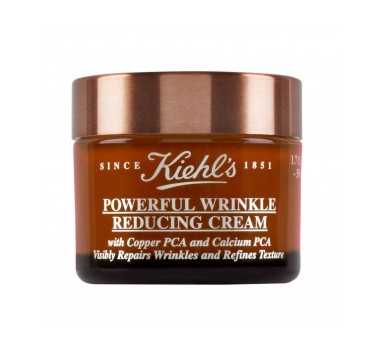 Powerful Wrinkle Reducing Cream
Kiehl's Powerful Wrinkle Reducing Cream is developed to bring significant reduction in the appearance of lines and wrinkles. It smoothes skin's texture and minimizes pores, while improving its elasticity by 32%. The cream is formulated with micronutrients, Copper PCA and Calcium PCA.
Copper PCA, Calcium PCA, Apricot Kernel Oil
Apply each morning to face and neck on cleansed, toned skin. Repeat each evening.
---
---
Advertisement
---
---
Advertisement
Right now 6 products on sale!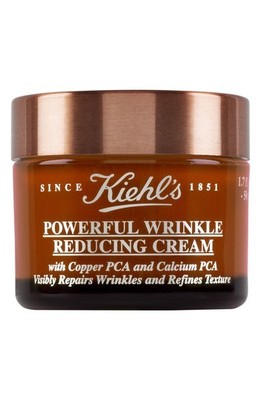 90 USD
KIEHL'S SINCE 1851 Powerful Wrinkle Reducing Cream
90 Alhambra,CA,USA
New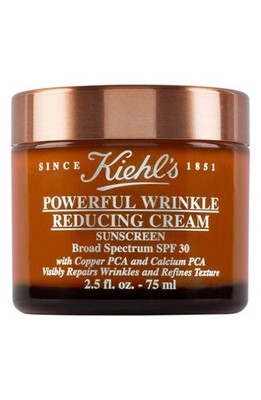 90 USD
KIEHL'S SINCE 1851 Powerful Wrinkle Reducing Cream SPF 30
90 Alhambra,CA,USA
New
130 USD
KIEHL'S SINCE 1851 Powerful Wrinkle Reducing Cream
130 Alhambra,CA,USA
New
90 USD
KIEHL'S SINCE 1851 Powerful Wrinkle Reducing Cream SPF 30
90 Alhambra,CA,USA
New
130 USD
KIEHL'S SINCE 1851 Powerful Wrinkle Reducing Cream SPF 30
130 Alhambra,CA,USA
New
90 USD
KIEHL'S SINCE 1851 Powerful Wrinkle Reducing Cream
90 Alhambra,CA,USA
New